Dogs available for adoption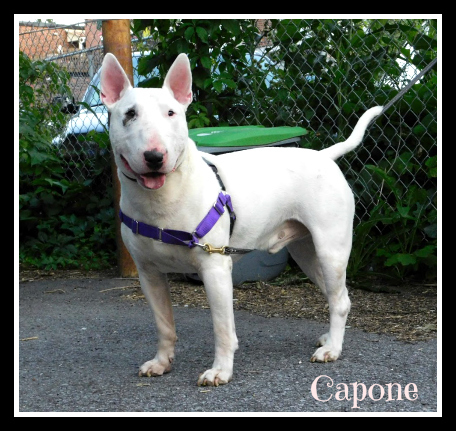 Bull Terrier
Up-to-date with routine shots
URGENT! FOSTER HOME ALSO NEEDED. My name is Capone, I'm looking for a new home, and my story is worth reading till the end. I'm a sweet, loving, 3 year old Bull Terrier. I'm gorgeous and love people. The main thing to know about me, though, is that I am NOT good at all with other dogs. I once was, but the last few months of my life changed me. I lived in the country with a cat and my owner. I never cared for the neighbour dog, and we got into a few brawls, but nothing serious. One day, my human Dad suddenly passed away, and it took 4 days before we were discovered. The cat, Al, and I remained with his body, and when we were found, I was brought to the local pound. The next of kin was then contacted about dad, and when they callrd the pound about me, they were told I was going to be put down because of my breed.... That's when Sophie came into my life and agreed to take me in. She took me to a dog park with a muzzle, just to see my behaviour, and even though not yet neutered, I was great. The next day, I went to the same park, and a dog attacked me and bit me in the face. I managed to get my muzzle off, and grabbed him by the collar. I left, but was quite reactive by then... Then I went to a foster home, who had a Pitbull that I played with. Tug of war turned into me grabbing her collar, and she bit me in the face.... So you can imagine, I became very reactive and have been so ever since. Then, a bad incident happened as I was being let out of the car for a pee, I got riled up at dogs, Sophie lost control as I am quite strong, and went after one of them. It didn't turn out well. Being in the city where dogs are hated, you can imagine that I am not welcome in Montreal, and actually don't care for it. Now for my positive side: I am mellow, non destructive, very affectionate, eager to please, very smart and willing to learn, funny and goofy. I love talking when I greet you, and that always makes Sophie smile! So if you live in the country, can love me as an only dog, and want me to make you laugh, give me a chance. I'm looking for a home with a privacy fence so I don't see the neighbour's dogs, and obviously someone who can work with me and hopefully one day, I can be good with dogs again. For now, basket muzzle at all times when outside, we're working on ignoring dogs we see. But it's a work in progress. There are dogs everywhere you look in the cities, which is why I'm hoping for the country life. I'm not a city dog. I need someone to love again, I want to play fetch, run around and just be loved for who I truly am. If you think you'd like to know more about me, get in touch with Sophie via this ad or call at (514) 804-5052. Make sure to leave a detailed message if you get the VM.
Young, Male, Large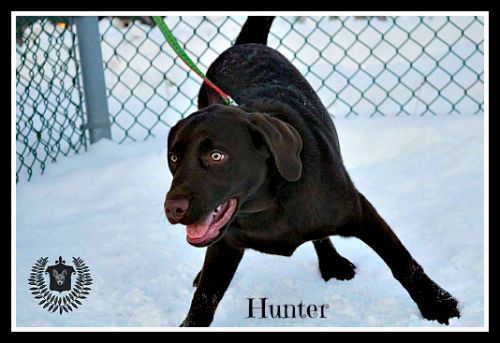 Chocolate Labrador Retriever
Spayed/Neutered
Up-to-date with routine shots
Hi everybody! My name is Hunter. I'm currently 6 months old and already weigh 60 lbs. I'm going to be a big boy once I'm all grown-up. I'm a Chocolate Lab with a whole lot of energy. My previous owner gave me up because she had no time for me. Being a very bouncy and active puppy, I require a great deal of daily exercise, mental stimulation and obedience training. My foster dad reports that my training is going well. I'm learning the basics like leash-walking, playing nicely and asking for the door when it,s potty time. I'm still very much a work in progress however so my adopter(s) will need to have very good dog training skills and be ready to devote a lot of time to me. I'm very bright and eager to please. I lack in social skills with other dogs at this time but I am learning how to be respectful. I have a rather high prey drive (true to my retriever breed) so I would not do well in a home with cats or other small animals. Seeing as I'm a very bouncy big pooch, I would not be a good candidate for small children. If you think i'm the perfect pup for you and you're ready to commit to me for the rest of my life, please hurry and download the adoption form located at www.sophiesdogadoption.com
Baby, Male, Large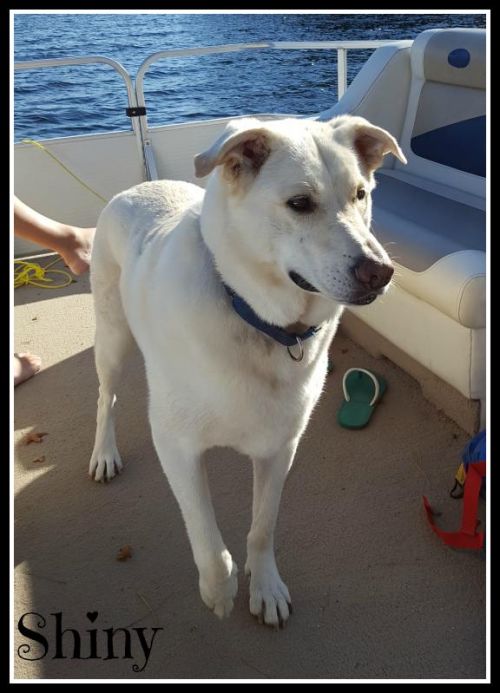 Labrador Retriever
Spayed/Neutered
Up-to-date with routine shots
Hello there! My name is Shiny. I'm a 4 year old Labrador Retriever mix in excellent health. I'm a big boy weighing 110 lbs. I was originally adopted at the SPCA when I was still a puppy by a retired couple in their golden years. According to them, they were told that I would weigh about 40 lbs once fully grown. Had they known IMd get so big, they would have chosen a smaller dog. Here we are about 4 years later and I'm just too much dog for them to handle. They sure love me a lot and it took them a very long time to come to the decision of re-homing me. I'm an energetic pooch so daily exercise and mental stimulation are a must for me. With the right handler, I will be much easier to train. My social skills right now are not so good. I'm dog reactive when on leash, I am unsure with strangers at first and I have a pretty high prey drive when I see cats, squirrels and other small animals. My ideal human (s) will need to be familiar with my breed, active and well-versed in canine psychology. In the right home and under proper leadership, I am much better behaved. I have a lot of great qualities too of course. I'm very bright and eager to please. I'm sweet and engaging with my people and I love to play. Typical to the Lab, I also love the water. If you think I just might be the ideal pooch for you, please go to www.sophiesdogadoption.com and fill out the adoption request form.
Adult, Male, Not known