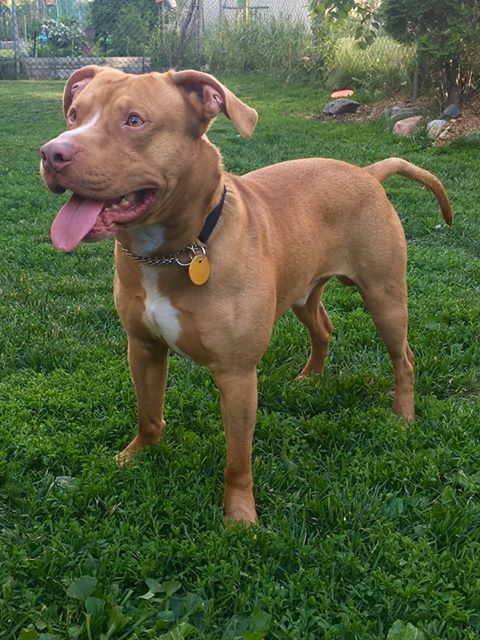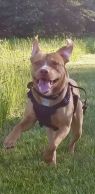 Pit Bull Terrier
Spayed/Neutered
Up-to-date with routine shots
Are you looking for a fun- loving, energetic pup? If so, meet Ernie. A 10 month old Pitbull Terrier in good health and weighing about 45 lbs. Ernie came to our foster home a few weeks ago. When he arrived, his fear was through the roof. This is quite understandable considering his story. You see Ernie was approximately 10 months old when he was taken in by his first family, a time where he should have been having fun and learning the rules about having good manners from his very loving, pit bull savvy family. Unfortunately by the time he came to us he had already had a couple of homes. His last spot was with someone who tried to help out for the last 3 months but he was left all alone in a filthy room for most of the time . This must have been so hard on him seeing that dogs, especially Pit Bulls are so social . Ernie had no idea that his life was about to change for the better when Sophie arrived. When he came to our home he immediately attached himself to the "man of the house", Angelo, and this gave him the courage to trust again. With time Ernie has come to trust the rest of the family and now enjoys roaming the house with his new dog friends. These new friends taught him the valuable lessons in dog etiquette and with the help of other dogs at the dog park. Ernie is learning how to play by the rules. Considering he has been with us only for a few weeks we give him an A+ for crate training, not using his mouth to communicate, not grabbing the laundry as you try to hang it and learning to be on his own for a bit. He needs to continue his growth in these areas but responds well to positive reinforcement and reward based training. He hasn't learned how to share his food yet so his resource guarding needs attention. What is Ernie great at, you may ask ? This is an easy one...stealing your heart ! What a sweetie he is. This boy is extremely loyal, playful and a clown. Loves, loves, the water. Ernie needs a place where he can let his zoomies out at least once a day, He's quite fun to watch. He needs a lot of daily exercise, rules, structure and boundaries. This guy is an athlete! He is wanting to please his people and because of this, his training is going well. Be prepared and understand that he will have some anxiety at the beginning. This could be up to a few days to a few weeks. He has been abandoned by people he loves again and again. Ernie doesn't realize that you will be his final stop, that you will be his forever family who will love and cherish him and loyally take care of him for the rest of his life. When he finally knows this, he will be the happiest dog that you have ever seen. Ernie could be a good candidate for dog-savvy children, 12 yrs old and up. No cats. As for dogs, intro must be done properly and always under supervision. No food or toys lying around. If you think this ador-a-bull is the dog for you and you're ready to commit to his well-being for the rest of his life, please hurry on over to www.sophiesdogadoption.com and download the adoption form asap!
Young, Male, Medium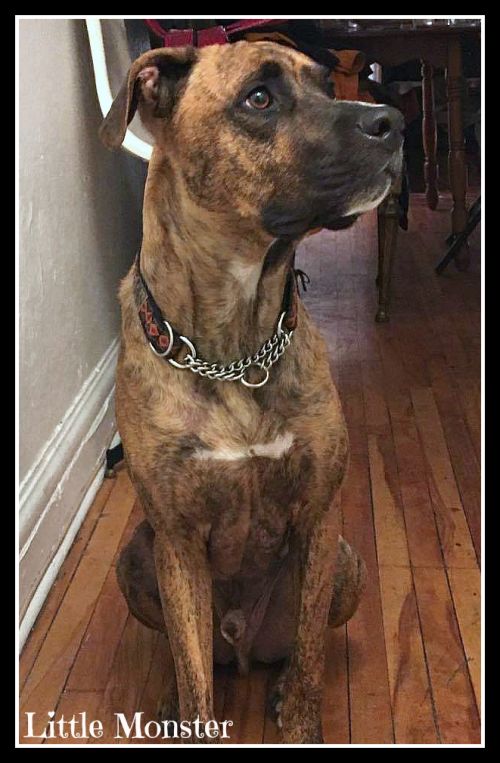 Bullmastiff, Boxer
Spayed/Neutered
Up-to-date with routine shots
Hi there! My name is Little Monster. I'm no monster and I'm not little though. My first owner affectionately called me "Petit Monstre" when he first got me as a bouncy teenager so the name stuck. I'm a beautiful brindled Bull Mastiff mix. I'm about 7 years old and weigh around 70 lbs. I was adopted again 3 years ago (July 2017) but I am sadly being returned. I've become too protective of my latest owner. There is also a new boyfriend in the picture. Basically, I'm no longer the right fit for this home. I am now looking for my 3rd home. I was used to spending a lot of time on the street with my first owner and was really well- socialized and well-behaved. When my first owner's health became not so good , I stopped spending a lot of time outdoors. The Landlord received complaints from the tenants that I whined when left home alone. This was a big problem for my first owner since dogs were not allowed in the building. Sadly, he had to make the very difficult decision to re-home me. Moving elsewhere with his fragile health was just not an option. I'm used to other big dogs. I'm used to kids as well but small children would not be ideal for me however just because of my size. Dog-savvy and mature children 10 years and up could do. I do sometimes jump up on people when I get excited. I especially get vocal when people come over since I think it's my job to protect my "mom". To know me is to love me. I'm 100% love 24/7. I'm very engaging, bright, eager to please and active. My ideal human will need to be very active and have a great deal of experience with dogs too. Once my daily physical and mental needs are met, I'm one very happy, calm boy ready to snuggle with you on the couch for some TLC. My new human MUST have great leadership skills and be calm, firm and confident. Here is what my very dog-savvy foster mom who knows me really well has to say about me... "Monster is a super sweet 7 year old Bull Mastiff mix. He is really sweet, obedient, especially loyal and very, very snuggly. He loves nothing more than joining you on long walks and playing a game of fetch. He does very well on leash, has his basic obedience training down, is non-destructive at home and able to be left on his own for several hours without problems. Monster is currently working on his doggie manners when it comes to meeting new people and/or dogs! His reactivity usually manifests as barking and sometimes jumping. If you are patient and take introductions slowly, are clear about what behaviour is expected of him and consistent with your execution, he does great. He does have a high prey drive so it would be best for him to be placed in a home without small dogs or cats." If you think you're the one for me, please fill out the adoption request located at www.sophiesdogadoption.com.
Adult, Male, Large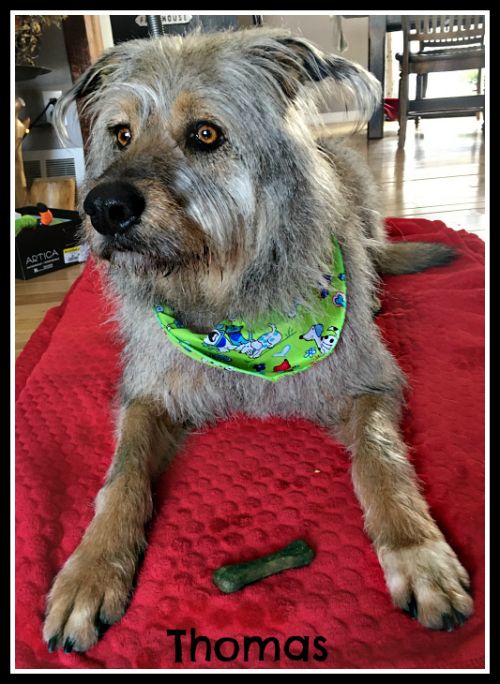 Mixed Breed
Spayed/Neutered
Up-to-date with routine shots
Hello there! My name is Thomas II and I'm a 9 year old mixed breed. I weigh 55 lbs and I'm in excellent health. I am NOT non -shedding. I recently arrived to Montreal from the BETA rescue in Beirut. I was pretty miserable at the shelter in Beirut. I had been living there since the age of 2. The other dogs started to zero in on me for some reason all of a sudden so I became very afraid, The good people at the shelter asked Sophie's Dog Adoption if they could take me in and find me that wonderful forever home I deserve so much. So, here I am, loving life in Montreal and doing great in my foster home. I'm such a sweetheart. I'm well-behaved, house-trained, loving, playful at times, easy-going, eager to please and very engaging. My main issue is when I see other dogs or cats on my walks from a distance. I get very excited and bark at them. I chase the cats. I'm weary of strangers too. I calm down quickly. I'm already well-trained. I know my basic commands like sit, stay and give me your paw. I love belly rubs! My ideal new human should be a firm, calm and confident leader with a good deal of experience. This noisy City life is all new to me but I'm adjusting. I am not an ideal candidate for kids. I like a very quiet and peaceful home. I'm a very submissive dog by nature. I do show reactivity to strangers. I don't like my personal bubble invaded. If I'm afraid or feel trapped, I will bite. For that reason, it is wise to walk me with a muzzle. My new human should be very well-versed in canine body language. If you think you're the perfect person to adopt me and take great care of me for the rest of my life, please contact SDA via this ad and ask for the adoption form.
Adult, Male, Large